Specifications



LED Light Bar(A)

LED Light Bar(B)

Max Size

3000mm

2800mm

Min Size

50mm

50mm

lnput voltage

12V DC

12V DC

Color temperature

2700K 3000K 3500K
4100K 5300K 6500K

2700K 3000K 3500K
4100K 5300K 6500K

Operating Temperature

-20°~ +60°

-20°~ +60°
General view LED Light Bar(A/B)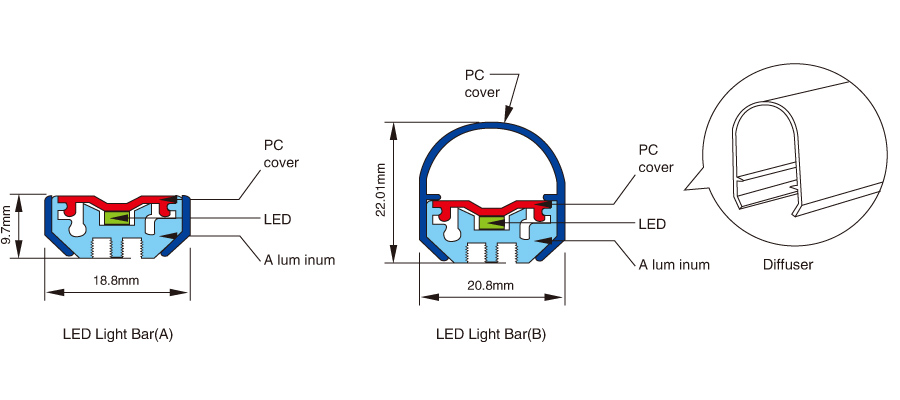 Led Light Bar –mounting Options
led Light Bar can be equipped with two different mounting options
Option 1: Screw Mounting












Attach Led Light Bar directly to substrate using the mounting brackets located on each end using. The screws provided. Some substrates such as dry wall may require additional anchoring e.g. Drywall anchors (not provided).




For led Light bar longer than 610mm special mounting clips will be provided for additional support.The clips are mounted directl-y to the substrate using the screws provided. The mounting clips should the spaced evenly across the Led Light Bar at app-roximately 610mm from each other for best support.
Option 2: Magnetic mounting












Some Led Light Bar come equipped with powerful magnets on the back of the housing. The magnets will be located no more than 610mm from each other and are strong enough to securely hold the led Light Bar in place. Please ensure your metal frame or su-bstrate is secure and simply place the Led Light Bar in the

desired location.